Author List: Kara Matthews, Kayla Maloney, Sabin Zahirovic, Simon Williams, Maria Seton and Dietmar Müller.
Citation: Matthews, K.J., Maloney, K.T., Zahirovic, S., Williams, S.E., Seton, M., and Müller, R.D. (2016). Global plate boundary evolution and kinematics since the late Paleozoic, Global and Planetary Change, 146, 226-250.
Abstract:
Many aspects of deep-time Earth System models, including mantle convection, paleoclimatology, paleobiogeography and the deep Earth carbon cycle, require high-resolution plate models that include the evolution of the mosaic of plate boundaries through time. We present the first continuous late Paleozoic to present-day global plate model with evolving plate boundaries, building on and extending two previously published models for the late Paleozoic (410–250 Ma) and Mesozoic-Cenozoic (230–0 Ma). We ensure continuity during the 250–230 Ma transition period between the two models, update the absolute reference frame of the Mesozoic-Cenozoic model and add a new Paleozoic reconstruction for the Baltica-derived Alexander Terrane, now accreted to western North America. This 410–0 Ma open access model provides a framework for deep-time whole Earth modelling and acts as a base for future extensions and refinement.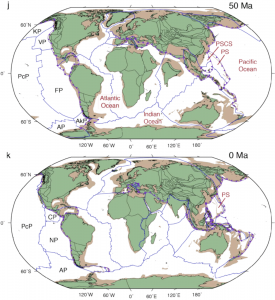 DOI: 10.1016/j.gloplacha.2016.10.002
Global plate boundary evolution and kinematics since the late Paleozoic