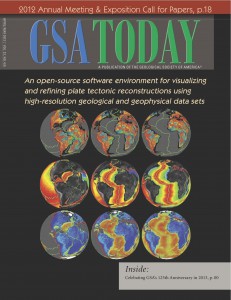 We describe a powerful method to explore spatio-temporal relationships within geological and geophysical data sets by analyzing the data within the context of tectonic reconstructions. GPlates is part of a new generation of plate reconstruction software that incorporates functionality familiar from GIS software with the added dimension of geological time. Here we use GPlates to reconstruct geological terranes, geophysical grids, and paleomagnetic data within alternative tectonic models of the assembly of Western Australia and the configuration of Rodinia. With the ability to rapidly visualize a diverse range of geological and geophysical constraints within different reconstructions, users can easily investigate the implications of different tectonic models for reconciling a variety of observations and make more informed choices between different models and data.
Documents
GSA Today Paper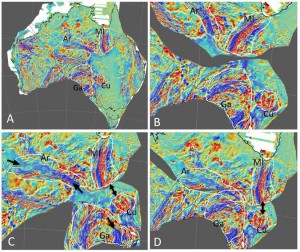 Download
To accompany the GSA Today article, we have created two supplementary data sets to use with GPlates. To get started using GPlates for yourself, use the following links to download the software for your operating system, then download the data files (pdf files are provided with step-by-step walkthroughs for each data set).

To download GPlates Click Here.

The first supplementary data set contains a general introduction to GPlates – the first steps in loading geometries and images and reconstructing them. To download a zip bundle containing these data Click Here.

The second supplementary data set contains the data used for the Australia use-case described in the GSA Today article. To download a zip bundle containing these data Click Here.

A range of other GPlates tutorials are available Here.
Williams, S., Müller, R.D., Landgrebe, T. C.W., Whittaker, J.M., 2012, An open-source software environment for visualizing and refining plate tectonic reconstructions using high resolution geological and geophysical data sets, GSA Today, 22, no. 4/5, doi: 10.1130/GSATG139A.1.
License
This work is licensed under a Creative Commons Attribution 3.0 Unported License.
Feedback
We welcome any feedback, please send us an email. Send email.
419 total views, 1 views today