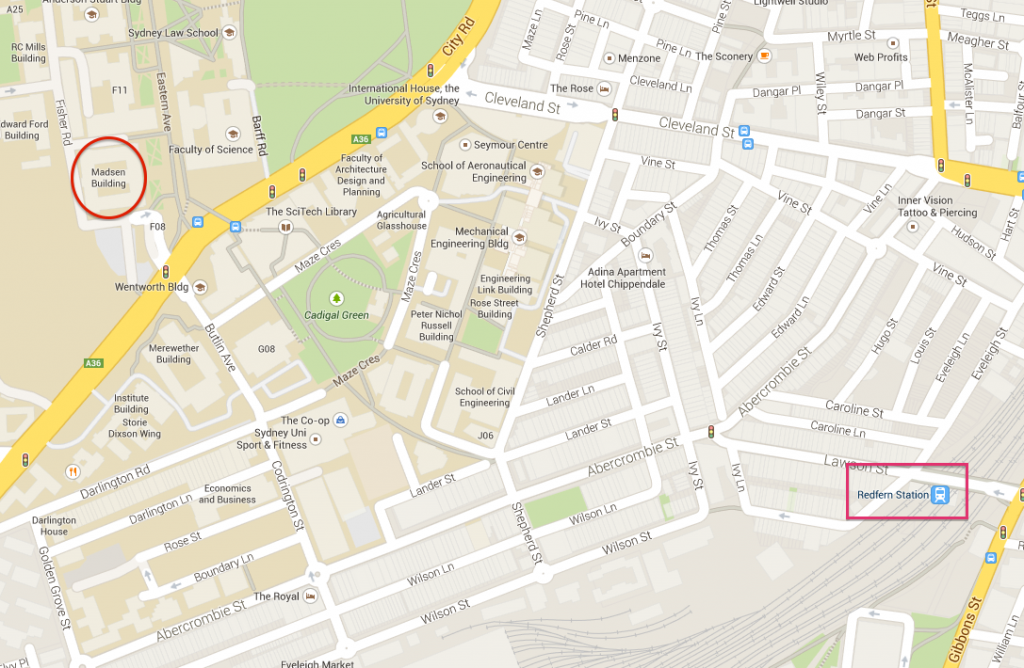 EarthByte Group
Madsen Building F09
School of Geosciences
The University of Sydney NSW 2006
Australia
Prof Dietmar Müller
dietmar.muller@sydney.edu.au
Phone: +61 2 9036 6533
Fax: +61 2 9351 0184
Assoc Prof Patrice Rey
patrice.rey@sydney.edu.au
Phone: +61 2 9351 2222
Fax: +61 2 9351 0184
Dr Maria Seton
maria.seton@sydney.edu.au
Phone: +61 2 9351 4255
Fax: +61 2 9351 3644
Directions to the EarthByte Group
From Sydney Kingsford Smith Airport
Take a taxi and ask to be taken to the City Road entrance of the University of Sydney. The fare should be between $25 and $30 and take about 25 minutes. Most cabs accept Cabcharge, Diners Club and American Express credit cards (not Visa).
Take the train from the Airport terminal to Redfern Station. The Madsen Building is a 15-minute walk from Redfern Station. See below for directions and above for location on Google Maps.
Take the Airport Express buses from outside the terminal (Phone 13 1500). They run frequently between the airport and the CBD (route 300) from approximately 5.00 am to 9.30 pm. Allow 15-20 minutes between the airport and Central Railway Station, $7 one-way, $12 return. Central Railway Station is only a short taxi ride from the University.
To drive from the airport, see www.google.com.au/maps.
From Sydney CBD By Bus
Take buses 422, 423, L23, 426, 428, L28 from Castlereagh Street or Circular Quay.
Take the University of Sydney stop and cross the road at the set of lights. We are in the sandstone building right in front.
From Sydney CBD By Train
Take the train from the CBD to Redfern Station.
Exit Redfern Station, turn left and walk west on Lawson Street, turn left (south-west) onto Abercrombie Street, and then right (North-ish) on to Codrington Street. Cross the road at the City Road lights and we are in the sandstone building right in front.
You can also contact us by filling out the form below.