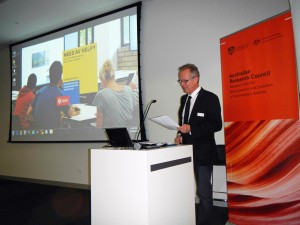 Prof Dietmar Müller, Wed 19 August 2015
Good afternoon! On behalf of the University of Sydney and the School of Geosciences I welcome you to the opening of the ARC Research Hub for Basin GEodyNamics and Evolution of SedImentary Systems (in short Basin Genesis Hub).
Before we begin the proceedings, I would like to acknowledge and pay respect to the traditional owners of the land on which we meet – the Gadigal people of the Eora Nation. It is upon their ancestral lands that the University of Sydney is built.
I would like to extend a special thank you to our industry partners, Statoil, Chevron, Oil Search, Intrepid Geophysics and 3D-GEO, many of whom are here today. We are especially pleased to have with us today Ms Leanne Harvey, Executive General Manager of the ARC. 
Sedimentary Basins – this is what this research hub is all about. So what are they? They are low areas on the Earth's surface in which sediments accumulate. It is estimated that there are nearly 1000 young and old basins worldwide. Many of the resources that are essential for life and our very own existence are found in sedimentary basins. They host water and energy resources and they also provide structures for carbon disposal.
Most of Australia is covered by sedimentary basins – we are standing on an ancient basin right now, the Sydney Basin which dates back to about 300 million years ago when the Sydney region was near the polar circle. Not only did the Antarctic vortex occur every day at that time, but the Sydney coast was also lined by a long belt of volcanoes, spewing out lava and rocking the region with frequent earthquakes along a great subduction zone. Compared with that, we have quite an easy life today.
This illustrates that sedimentary basins today are a consequence of processes operating on a wide range of time and spatial scales. Research over the past few years has shown that our simple models for understanding the dynamics of basins fail to explain even some basic observations. If we are to understand basins, manage their resources and predict their future, we need to understand basins quantitatively. This challenge has led to the Basin Genesis Hub, whose formal opening we are celebrating today.
The hub represents the collective effort of 5 national and international industry partners, Geoscience Australia, 3 Australian Universities, Sydney, Melbourne and Curtin, and one overseas institution, the California Institute of Technology. The Hub is very closely allied with the 35 million dollar AuScope National Collaborative Research Infrastructure, tapping into a massive, nearly decade-long investment into the AuScope Data Grid and Simulation and Modelling program. We are very pleased to have A/Prof Tim Rawling from the University of Melbourne here with us today, who also represents AuScope, as well as Prof. Chris Elders who leads the Hub's Curtin University node.
We are particularly pleased to have Caltech involved, ranked as the world's No.1 university in the Times Higher Education world university rankings. Prof. Mike Gurnis, our Caltech collaborator, cannot be here today because he is onboard the JOIDES Resolution research vessel on an international ocean drilling expedition on the Northwest shelf of Australia, one of the key focus areas of the hub. On their first drill site, they recovered a 50 million year sedimentary record where they expected just 5 million years to be represented. That's a tremendous result, and will allow us to better calibrate numerical basin simulations for this region.
In a centre strongly focused on high-performance computing, there are two infrastructures our success is contingent upon, people and computers. Talented people are truly the main infrastructure we depend on, and we are extremely fortunate in having been able to assemble a young (and sometimes not so young), enthusiastic and talented group of researchers, many of whom are here today. They include observationalists, modellers, software and web developers.
At an upcoming international industry conference in Melbourne, Basin Hub members will present over 20 papers as well as a software short course, demonstrating that the hub is off to a flying start.
However, talented people alone are not sufficient to make this hub work. We also need a cutting-edge computing infrastructure. In the context of high-performance computing we are extremely pleased to have Professor Robin Stanton of the National Computational Infrastructure, in short NCI, with us today. Prof. Stanton is a member of NCI's board and former ANU Pro Vice Chancellor of eResearch. The NCI has very generously provided us with a special allocation of computer time for the Hub's activities.
Why exactly do we need all this computer time? More than 150 years ago the Navier-Stokes equations were derived, describing the motion of fluids. These equations were later used to understand laminar flow, turbulence, and shock waves, but new methods are needed to understand the complex flow of materials in the deep Earth.
NCI supercomputers now allow us to tackle this problem in 3D, through geological time, at a resolution able to capture the scale which drives the evolution of sedimentary basins, such as faulting and crustal flow, as well as surface processes like river erosion and sediment transport. This was impossible even just a few years ago.
The Hub is a 5-year project. You might ask, how will it make a difference in the long run, beyond this period? One truly novel aspect of the hub's research innovation is that all software developed within the project will be open-source. All our industry partners have been extremely supportive of this.
Even ten years ago industry supporting community software would have seemed like a phantasy. Google the Internet now for keywords like "enterprise, industry and open-source" and you'll get quite a few hits. What's changed?
Open source development drives greater innovation because it reflects Sun Microsystems co-founder Bill Joy's law: No matter who you are, most of the smartest people work for someone else.
But if you can get other smart people to care about what you are doing, contributing to what you're working on, you'll get a lot more done than only working with your own smart people. You don't need to look hard for an example: This is why the Wikipedia is so successful.
While most of the coding in an open source community is usually done by a small number of people, the collective intelligence of a larger group, adding their personal experience and feedback, is what makes open source software so powerful.
I believe that our Basin Genesis Hub is the first industry hub that is firmly built on these insights.
What does that mean in practice? Our GPlates plate tectonic software includes developers from Germany, Norway, the USA, and Australia. Our Underworld geodynamic modelling software, whose development is led by the Hub's Melbourne node leader, Prof. Louis Moresi, who cannot be here today, has over 30 participating developers from Australia, the USA and EU countries. This way we are engaging many bright minds from around the world into the Hub's activities.
Last week we released a new open-source code that will be central to the hub: The Badlands software, a Basin and Landscape Dynamics evolution model written by our very own Dr Tristan Salles and Rakib Hassan, a PhD candidate in the Hub.
A question you might now ask is: Is there a chance that the hub's innovative open-source software and analysis tools will lead to long-term commercial activities? Consider this:
Open source licensing is widely viewed as ideal for the future of "Third Platform applications". Now you might wonder: What on Earth is the "Third Platform"?
The third platform is a natural computing progression from the first platform, which was mainframe infrastructure, and the second platform, the client-server and PC era. The third platform includes cloud computing, mobile applications, big data analysis and social connectivity. We are all already using the third platform, without necessarily being aware of it.
Information Technology is rapidly shifting towards the third platform, and this will disrupt every industry. It will be a transformation akin to the manufacturing shift from people's homes to mass production in factories during the industrial revolution in the 18th and 19th century.
Now you might ask: That's all very well, but how much do you guys really know about software on the cloud?
Last October we created a series of virtual interactive globes, showcasing some of our big data research products, running on the Amazon cloud, for the first time. This service uses a "third platform" Java technology and makes Google Earth look like something from the Industrial Revolution.
Our virtual globe portal has had nearly 200,000 visits since then. Last week we published the first virtual globe, and an associated research paper, illustrating the geology of ocean basins and margins in unprecedented detail. This "big data" story went viral online and the seafloor globe accumulated 50,000 views in just over a week.
That's because we have been fortunate to attract brilliant, ingenious developers of third platform technologies to our group – and I'd like to highlight John Cannon and Michael Chin at this point, who are both in the room; they, and their colleagues at partner institutions of the hub, squarely underpin the hub's future innovation in this space.
Nolan Bushnell, American engineer and entrepreneur, once said: The best ideas lose their owners and take on lives of their own. That's what we hope will happen in the hub.
Opening of ARC Basin Genesis INDUSTRIAL TRANSFORMATION RESEARCH HUB
486 total views, 1 views today