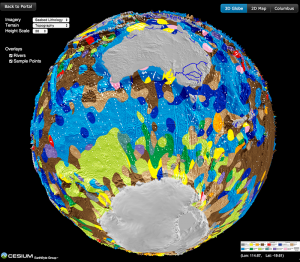 The recently-published ocean sediment map made by Dr Adriana Dutkiewicz and colleagues has taken the world's media by storm. It's been reported online and in press, from Australia to Cuba, Hungary and many other countries! See the updated list of media items below, and check out the link to the interactive 3D globe with the ocean sediments map.
Countries where the story has been covered so far:
Australia, UK, USA, India, Italy, Germany, Spain, Hungary, Austria, Cuba, Costa Rica and Peru.
Radio Interviews
ABC 774 Melbourne
World's first digital seafloor map reveals 'paradise' – ABC Rural Radio
ABC 702 Sydney
BBC Radio 5 Live's "Up All Night"
It took more than a year of research and sifting through thousands of samples to generate the world's first digital map of the seafloor – ABC Country Radio (Interview at 41:10) 
Online Media
First digital map of seafloor reveals kaleidoscope of diversity – The Sydney Morning Herald
What the Earth would look like stripped of oceans: First ever digital map of the sea floor reveals our planet's 'alien' landscape – Daily Mail
Other related news stories
First Digital Map of the Seafloor Reveals Secrets in the Sediments – National Geographic
New digital seafloor map provides answers and more questions – (e) Science News
Big data maps world's ocean floor – ScienceDaily
First digital map of seafloor reveals kaleidoscope of diversity – Farm Weekly
Digital Map Reveals the Geology of the Global Ocean Floor – Softpedia
Digital Seafloor Map Finally Replaces Hand-drawn 70s Standard – Wired
New Digital Seafloor Map Provides Answers and More Questions – Just Marine News
Climate: New Digital Map of World's Seafloor Created by Scientists – Science World Report
Digital Map of Seafloor Could Help Scientists Predict Climate Change Impacts – Exploring The News
Big information maps world's sea floor – AZ News
Big data maps world's ocean floor – EurekAlert
First ever digital map of seafloor's geology created – Techie News
This Is What The Earth Would Look Like Without Its Oceans – Huffington Post
Digital seafloor map finally replaces hand-drawn 70s standard – Tulane Hullabaloo
Erste digitale Karte der Ozean-Geologie – Scinexx
Crean el primer mapa digital del suelo marino de la Tierra – rtve
Digitális térkép készült a tengerfenékről – Hirado
Primer mapa del fondo marino – El Espectador
Ciencia: mapa digital del fondo marino ayudaría a predecir el clima (ANIMACIÓN) – el Popular
Crean el primer mapa digital del fondo marino de la Tierra – Cuba Debate
Conciben primer mapa mundial del fondo marino del planeta – Radio Habana Cuba
El mundo sin océanos: Crean el primer mapa del fondo marino (with map legend in Spanish!) – RT Sepa Más
Crean el primer mapa digital del suelo marino de la Tierra – Costaricaon
World's first digital map of the ocean floor released – DownToEarth
So sieht die Erde unter ihren Ozeanen aus – Wired
Plankton Graveyards Revealed in First Digital Map of Seafloor – Live Science
New Digital Map predicts How Oceans respond to Environmental Changes – Perfect Science
Seafloor Digi Map: Graveyards Revealed in Very First Digital Map of Seafloor – The Market Business
Scientists create first digital map of seafloor's geology – Dispatch Times
Climate Change's Effect On The Ocean Floor Could Be Predicted With Stunning New Digital Map – HNGN
Climate Change: Seafloor Graveyards Digitally Mapped – Clapway
First-ever digital map of seafloor raises questions about marine carbon cycle – Drop Science
Climate: New Digital Map of World's Seafloor Created by Scientists – Sentinel Republic
Scientists create the world's first digital map of the seafloor's geology – The Watchers
Scientists create first digital map of seafloor's geology – Junior College
Online la prima mappa 3D dei fondali marini – Pianetacellulare
Earth's first digital seafloor geology model – Spatial Source
A major ecosystem change is on its way – DownToEarth
Verborgene Landschaften: Weltatlas zeigt Belag des Meeresbodens – Spiegel Online
Homeward Bound … Big Data Reveals Geology of World's Ocean Floor, Dietmar Müller – The Journal of Ocean Technology: Mapping Our Oceans
First digital map of ocean sediments reveals weaker carbon sink – New Scientist
Begini Penampakan Bumi Jika Tanpa Lautan – Detik Travel
See the animation here on our EarthByte YouTube channel