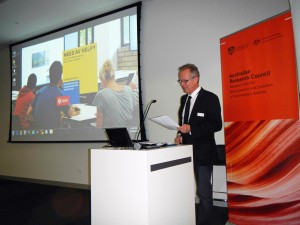 Prof Dietmar Müller, Wed 19 August 2015
Good afternoon! On behalf of the University of Sydney and the School of Geosciences I welcome you to the opening of the ARC Research Hub for Basin GEodyNamics and Evolution of SedImentary Systems (in short Basin Genesis Hub).
Before we begin the proceedings, I would like to acknowledge and pay respect to the traditional owners of the land on which we meet – the Gadigal people of the Eora Nation. It is upon their ancestral lands that the University of Sydney is built.
I would like to extend a special thank you to our industry partners, Statoil, Chevron, Oil Search, Intrepid Geophysics and 3D-GEO, many of whom are here today. We are especially pleased to have with us today Ms Leanne Harvey, Executive General Manager of the ARC.  … Read more…