The debate on the submarine canyon origin between the upslope erosion model dominated by retrogressive mass failures and the downslope erosion model controlled by gravity flows has not been fully settled. However, this debate is critical for explaining submarine canyon evolution. This study combines susceptibility mapping and stratigraphic forward modeling (SFM) to examine the origin and evolution of submarine canyons under various fluvial discharge and morphologies. The SFM work consists of dozens of hypothetical numerical experiments based on typical passive margin bathymetry with half bathymetry occupied by an incipient canyon and associated river mouth topography, and another half bathymetry by steep slopes without canyons. Evolution characteristics in both plan and cross-section views are analyzed, and the impacts of fluvial and morphological features on canyon evolution are tested.
The results indicate that the submarine canyons retreat landward, tributaries develop on the canyon outer banks, and blind canyons grow landward to capture small gullies and form shelf-incising canyons. The upslope pattern is dominant regardless of changes in fluvial discharge and morphologies. The locations of tiny gullies on steep slopes determine the distribution and growth direction of submarine canyons, whereas fluvial conditions and morphology parameters affect the canyon dimensions. High fluvial discharge and high canyon sidewall slope angle promote tributary development and canyon erosion. High canyon sinuosity leads to an asymmetrical distribution of tributaries on canyon outer banks whereas high regional slope angle increases the canyon length and decreases the canyon spacing.
This study settles the debate between the upslope and downslope erosion models. In addition, it refines the up-slope model by highlighting the importance of small-scale gullies and testing the influence of fluvial and morpho- logical conditions on canyon evolution. The conclusions could promote the understanding of submarine canyons and assist in reservoir exploration and hazards prevention.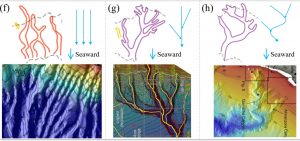 https://www.sciencedirect.com/science/article/pii/S0169555X21004554
Wan, L., Hurter, S., Bianchi, V., Salles, T., Zhang, Z. and Yuan, X., 2022. Combining stratigraphic forward modeling and susceptibility mapping to investigate the origin and evolution of submarine canyons. Geomorphology, 398, p.108047.