Dr Eline Le Breton
Past Visiting Scientist
Visiting from Free University of Berlin.
Research Interest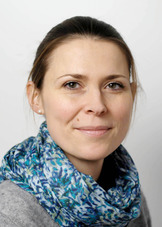 Eline is currently working on new kinematic reconstructions of the Adriatic plate and western Mediterranean area, a project funded by the German Research foundation (DFG). The Adriatic microplate is entirely surrounded by deformed margins comprising the Alps, Dinarides, Apennines and the Calabrian Arc that form during the Eurasia-Africa convergence. The Alps-Dinarides and Alps-Apennines junctions are marked by switches in subduction polarity, with Adria being the indenting upper plate in the Alps and the lower plate of the Dinarides and Apennines. Moreover, the Apennines have been the site of Oligo-Miocene rollback subduction and pronounced upper-plate extension (Liguro-Provençal and Tyrrhenian basins). Reconstructing the past motion of Adria is therefore key to a better understanding of the processes underlying the complexity of the Alpine-Mediterranean belt. During her stay at the EarthByte Group, Eline worked on kinematic reconstructions of this area back to Cretaceous time with deforming plate boundaries, using GPlates.
EarthByte welcomes visiting scientist Dr Eline Le Breton.