Youseph Ibrahim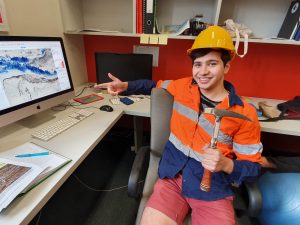 Youseph is a PhD student within the Earthbyte Group. Youseph studies the evolution of fold and thrust belts using a combination of numerical modelling and fieldwork methodologies. Most recently he has been focusing on the relationship between the Ruby Gap Duplex and the Entia Dome in Central Australia, and running numerical experiments to explore the role of isostasy in the evolution of fold and thrust belts.
In 2019, Youseph completed an honours degree titled 'Mechanical Stratigraphy, Structural Style, and the Evolution of Fold and Thrust Belts' where he used a series of numerical experiments to explore how a fold belts mechanical stratigraphy will influence its structural style. Using his findings, he explored the role of mechanical stratigraphy in the Papuan Fold and Thrust Belt.
Youseph's research assistant work involves running landscape evolution models of the Gulf of Papua over the last 2 million years, exploring sediment dispersal patterns and reef growth. Moreover, he also contributes to the development of plate tectonic reconstructions through time.
Email: [email protected]