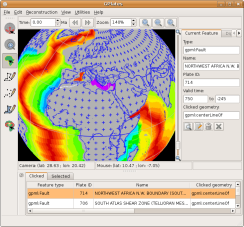 *Superceded (older) tutorials for earlier GPlates versions can still be accessed here
GPlates-compatible Data Files – Features
Below is a list of GPlates-compatible data files that can be loaded seamlessly in GPlates. The feature data are available as .gpml (GPlates Markup Language), .dat (PLATES4), .shp (ESRI Shapefile) and .xy (long, lat with header record) formats.
Data by the EarthByte Group are licensed under a Creative Commons Attribution 3.0 Unported License. When using GPlates and the sample data to make figures for publications, we recommend citing the original data sources as indicated below.
For users of GPlates 1.5, you can find the complete archived Sample Data from this link.