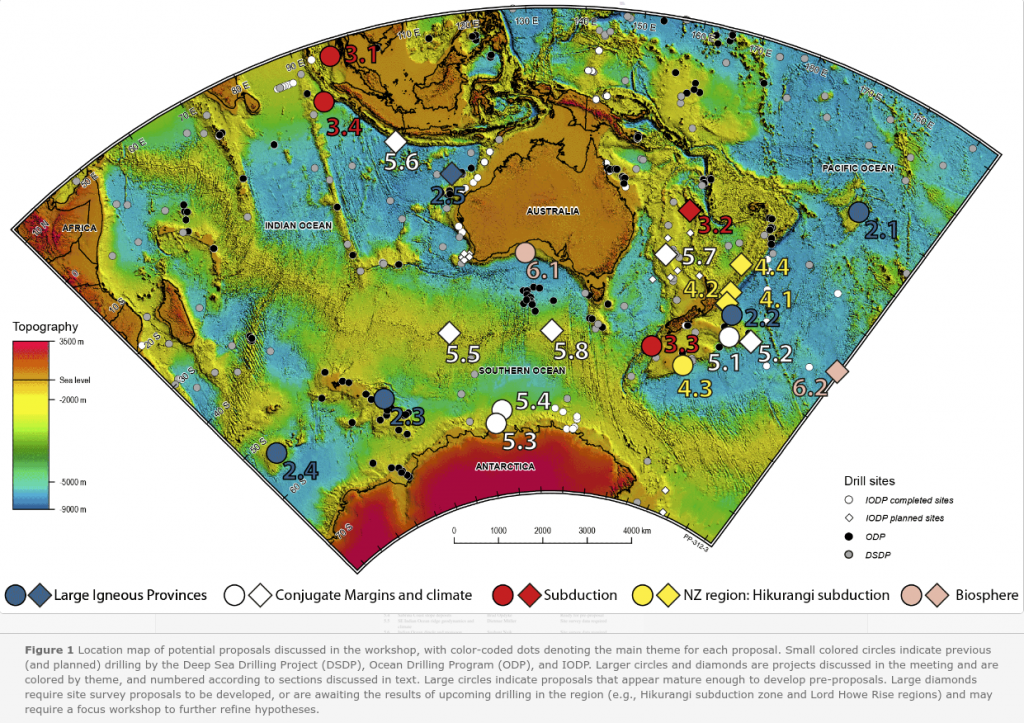 Abstract: An International Ocean Discovery Program (IODP) workshop was held at Sydney University, Australia, from 13 to 16 June 2017 and was attended by 97 scientists from 12 countries. The aim of the workshop was to investigate future drilling opportunities in the eastern Indian Ocean, southwestern Pacific Ocean, and the Indian and Pacific sectors of the Southern Ocean. The overlying regional sedimentary strata are underexplored relative to their Northern Hemisphere counterparts, and thus the role of the Southern Hemisphere in past global environmental change is poorly constrained. A total of 23 proposal ideas were discussed, with ∼ 12 of these deemed mature enough for active proposal development or awaiting scheduled site survey cruises. Of the remaining 11 proposals, key regions were identified where fundamental hypotheses are testable by drilling, but either site surveys are required or hypotheses need further development. Refinements are anticipated based upon regional IODP drilling in 2017/2018, analysis of recently collected site survey data, and the development of site survey proposals. We hope and expect that this workshop will lead to a new phase of scientific ocean drilling in the Australasian region in the early 2020s.
Citation: McKay, R., Exon, N., Müller, D., Gohl, K., Gurnis, M., Shevenell, A., Henrys, S., Inagaki, F., Pandey, D., Whiteside, J., van de Flierdt, T., Naish, T., Heuer, V., Morono, Y., Coffin, M., Godard, M., Wallace, L., Kodaira, S., Bijl, P., Collot, J., Dickens, G., Dugan, B., Dunlea, A. G., Hackney, R., Ikehara, M., Jutzeler, M., McNeill, L., Naik, S., Noble, T., Opdyke, B., Pecher, I., Stott, L., Uenzelmann-Neben, G., Vadakkeykath, Y., and Wortmann, U. G.: Developing community-based scientific priorities and new drilling proposals in the southern Indian and southwestern Pacific oceans, Sci. Dril., 24, 61–70, https://doi.org/10.5194/sd-24-61-2018, 2018.
Full text available here.
1,131 total views, 2 views today